Zoé Grospiron with her beloved longboard and Roxy attire. @elise.laine
French surfer Zoé Grospiron is riding a wave of success that started just two days after she stepped on a longboard for the first time. Although the Roxy team rider started surfing when she was 12 years old it wasn't until she was 15 that she made the move to a longboard. 6 months later she placed 3rd in the French Championships. She was hooked.
Since her early success the now 23-year-old has achieved a number of podium finishes, traveled the world for her chosen sport, and earlier this year Zoé and her French team became World Champions when they won the ISA World Longboard Championship.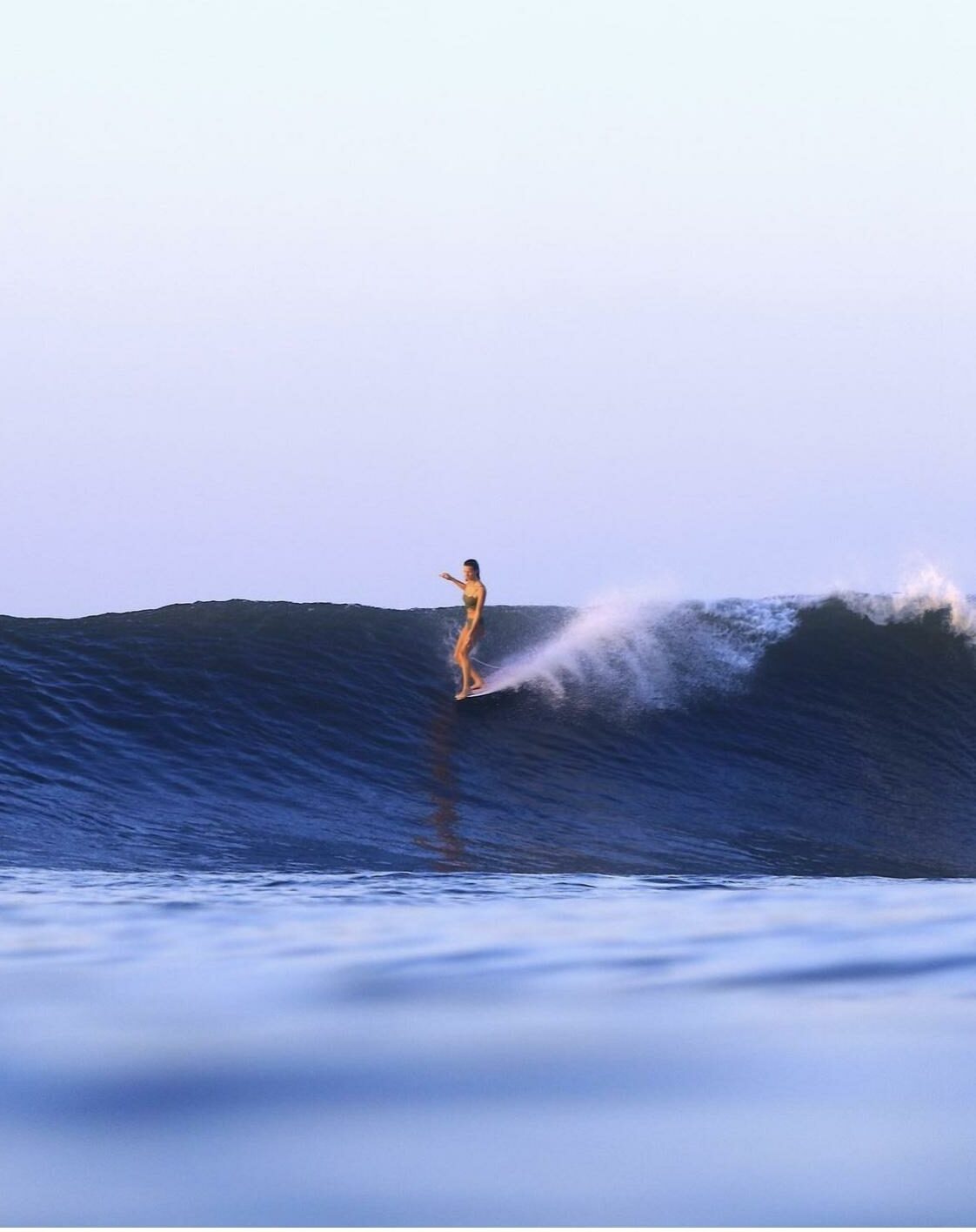 Growing up in the French Alps to parents who were competitive skiers, Zoé was out in the mountains before she could even walk. First in a baby carrier and then on her own skis. These early experiences in nature cemented her love for the wild earth and immersing herself in it.
When she left her hometown of Annecy for the coastal city of Anglet, moving away from competitive skiing, she never moved away from a desire to be out in the elements. This led her to try surfing with her stepfather and to attend surf school.
"When I first tried the longboard the glide felt like skiing. I can dance on the waves. There's more flow and grace than a shortboard."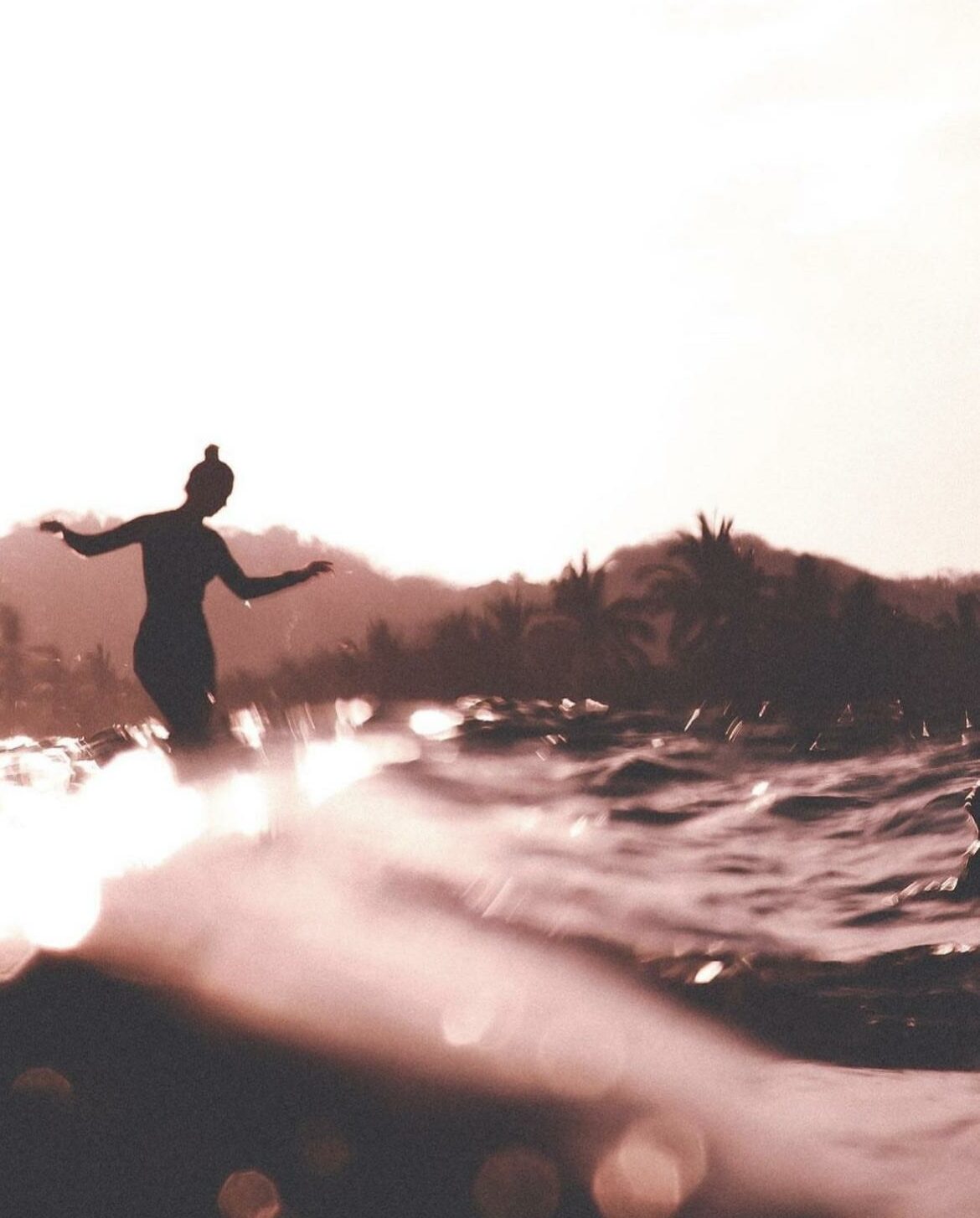 In May this year she was part of Team France at the ISA World Longboard Championship in El Salvador. France claimed gold, rising to the top of the 118 athletes from 32 different countries that competed. This was Zoé's first time on the team and she was the youngest in the close-knit group of six.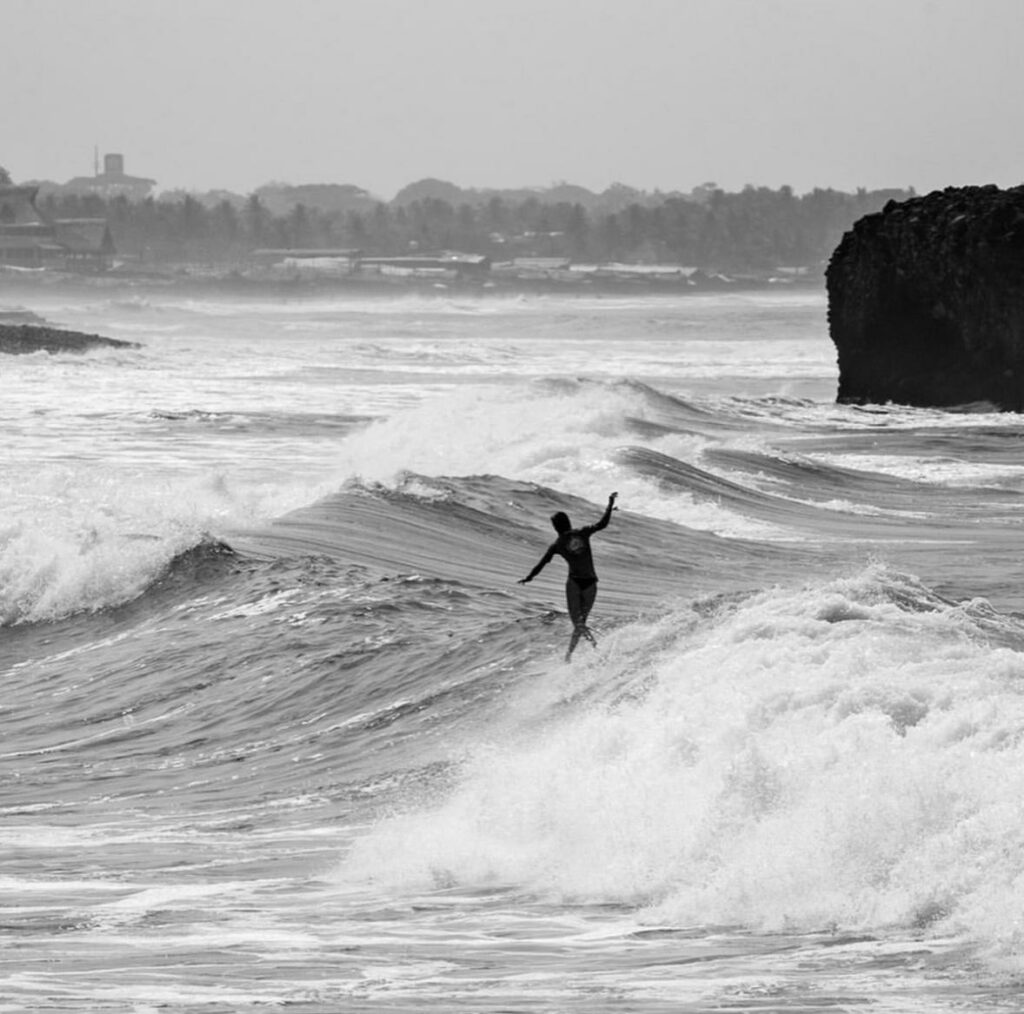 "It was a small group and we respected and inspired each other, which helped us do better every day of the competition. When we won it was amazing and of course we all wanted that but it was more than that. Being there in El Salvador was truly magic."
She has this same sense of camaraderie with her fellow Roxy riders and has held a coveted spot on the Roxy team since 2017. Zoé beams as she talks about her second family and the mutual respect that they have for each other. The pro-athlete met her biggest inspiration, Kelia Moniz, through Roxy and now the two are friends.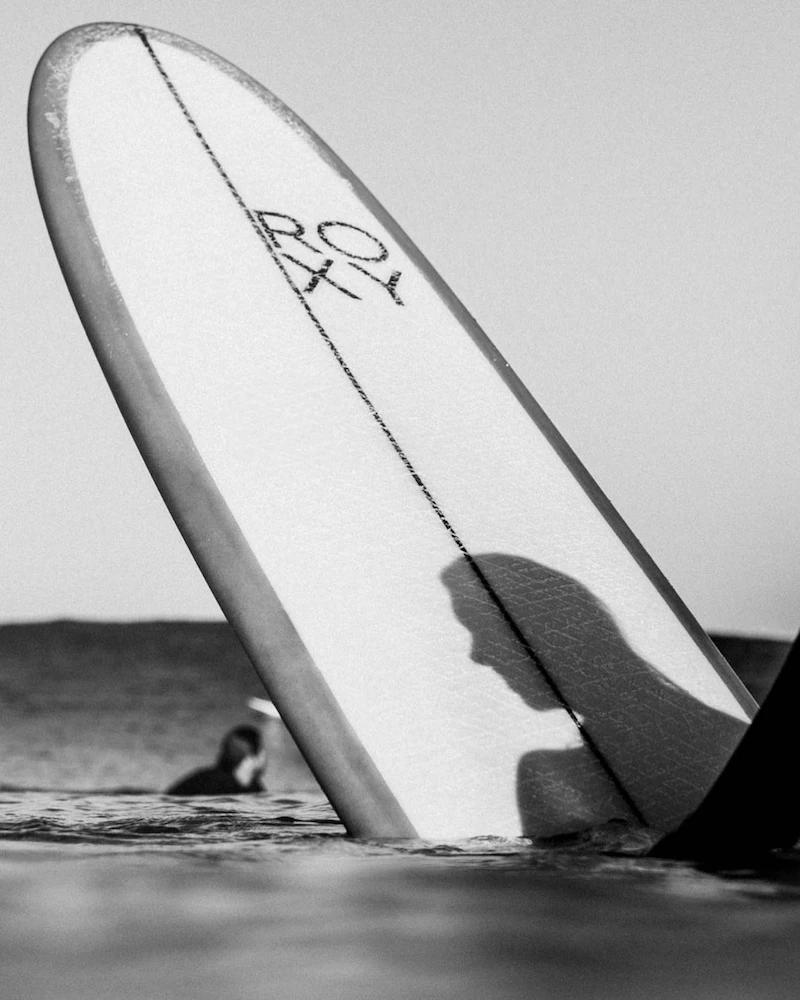 Zoé spends as much time as she can riding the waves. Despite being mostly on the road, the 23-year-old is extremely grounded and has cultivated a balanced view on life and routines to make sure that she releases any anxiety and unnecessary self-imposed pressure.
"Being surrounded by people you love and who inspire you is so important and to be connected to nature is the most beautiful thing you can do for your life."
Wherever in the world Zoé is she connects with nature, surfing daily if she can.
"Even when the conditions are tricky, I go in the water to improve my surfing and do my best to understand the ocean and feel comfortable! It's where I learn the most, outside of my comfort zone."
Zoé spent two years in lifeguard school in Biarritz so she could learn about the ocean, how to read it, to understand its power, and stay humble within it.
"The ocean to me is freedom and power. You can never control the ocean, only respect it."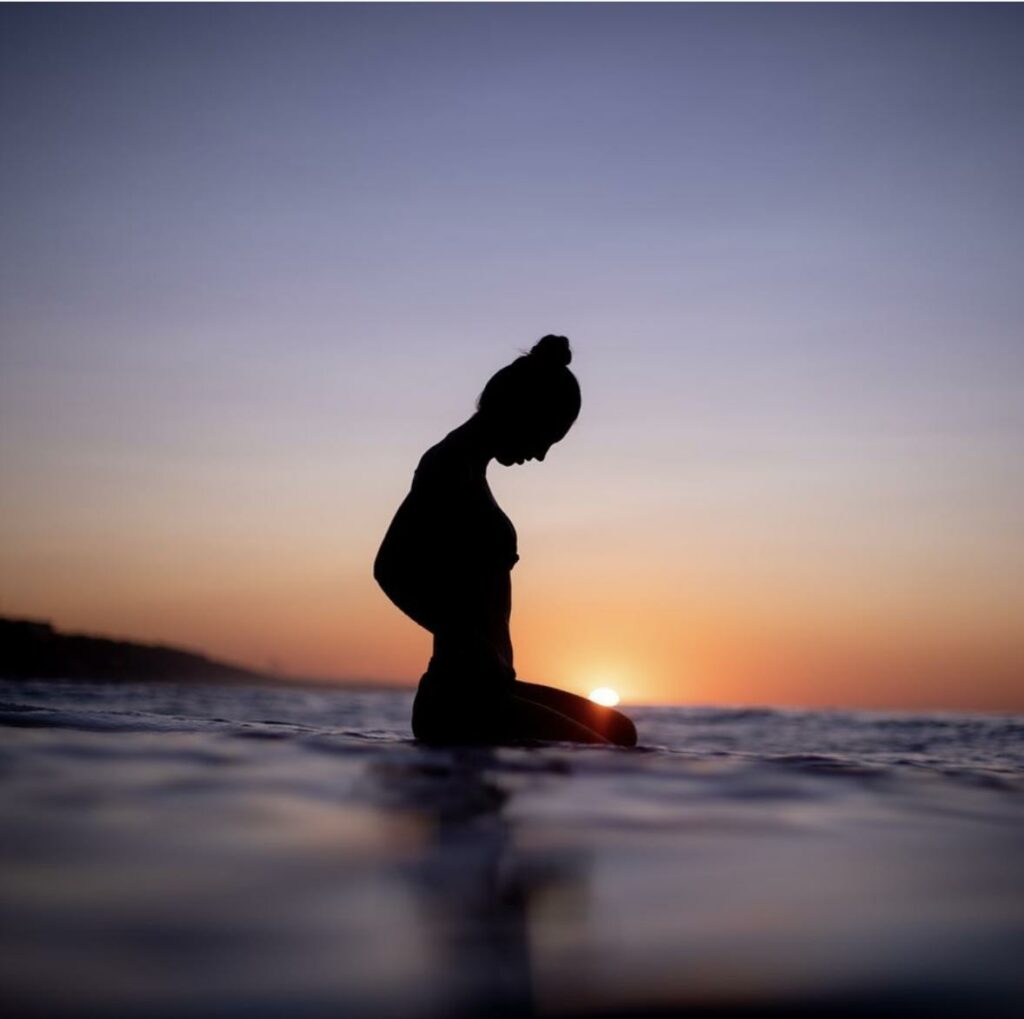 However, through her travels she's seen the ocean be disrespected.

"Wherever you are in the world you come across plastics. It's heartbreaking to see what is happening to our oceans, to our playground."
To help minimize her impact Zoé has been traveling with Beauty Disrupted's 'The Voyager', travel-sized versions of the brand's most popular bars.  
"I used solid shampoo before, but I wasn't happy with it. Now with Beauty Disrupted's bars my hair is healthy, shiny, and soft. I can also easily take them with me when I'm on the road and I love that the bars work so well in extreme conditions like salty water and on sunny beaches."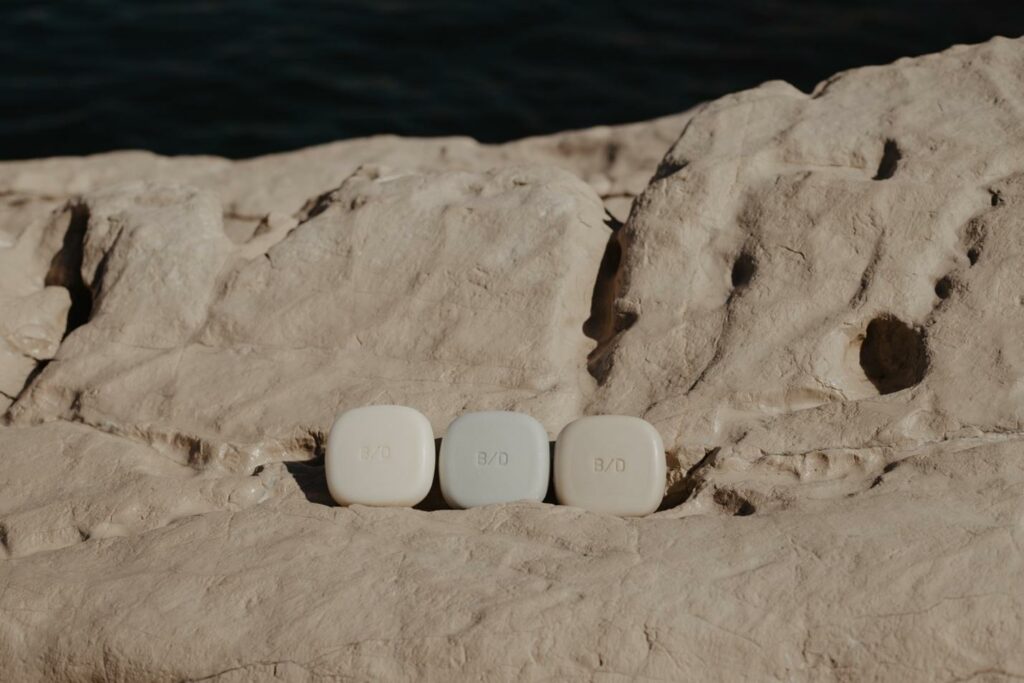 Beyond connecting with nature, and doing her best to minimize her eco-footprint, Zoé makes sure she's taking time to connect with herself through self-care rituals. The athlete also believes in being active in all the ways we can be and taking pleasure in all that we do. She always reminds herself why she does what she does and the joy she derives from surfing, not the outcome of a competition.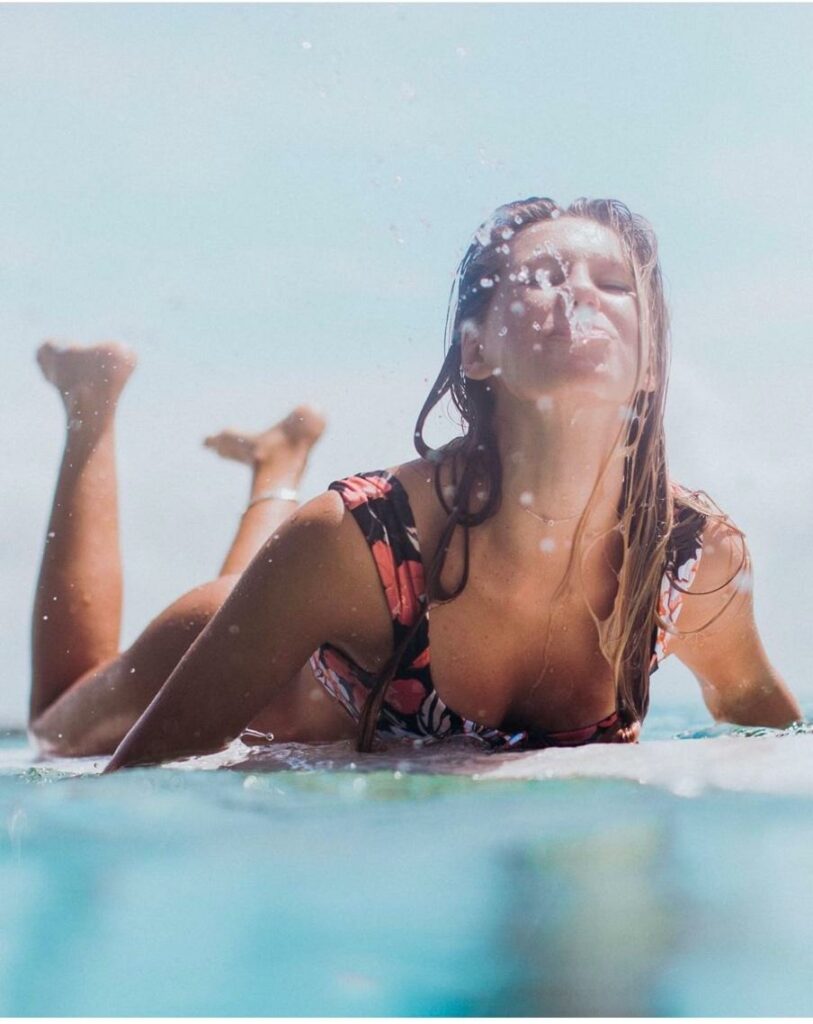 Although dedicated to the ocean, she's also pursuing higher education and is currently studying virtually for a masters in management through EM Lyon Business School. Surfing however remains at the forefront.
"I'll ride this wave for as long and as far as I can," added Zoé.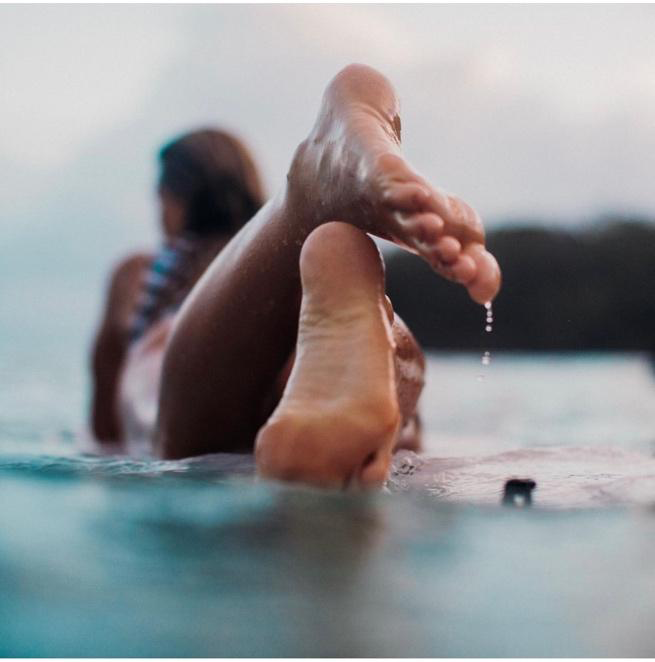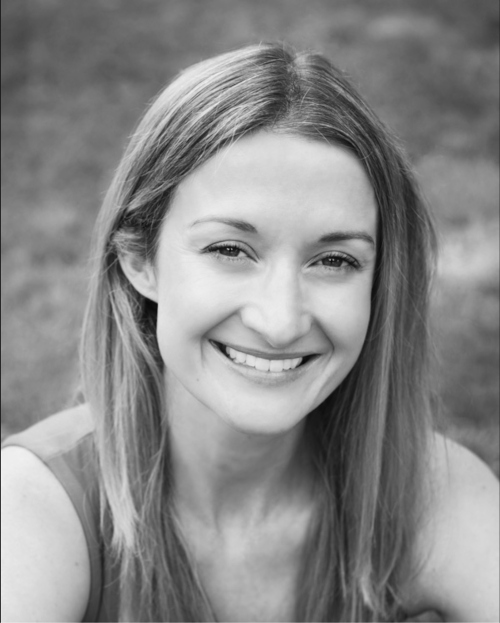 Karryn Miller is a native of Auckland, New Zealand, for whom "home" has also meant Tokyo, Hanoi, Mumbai, Seoul, and Washington, DC. As a hotel public relations consultant with a passion for travel, she has also published pieces in dozens of travel books, magazines, and newspapers around the world. Most recently, together with a global collective of mothers, she co-authored the book Mother Wild, and launched a series of wellness retreats. In 2021 Karryn relocated with her family to the second snowiest city in the world, Sapporo, on the island of Hokkaido in northern Japan.